Report has shown that most women feel more confident when they step out in expensive fashion items. Having to put this 2021 list of most expensive handbags in the world is a thing for me.
This is because – year in and out, fashion brands keep outdoing themselves just to compete with the insatiable needs of every stylish lady in the world.
It is well known that a cute handbag is every woman's dream. Even when they have a dozen of it on their shelves that have barely been used, a woman can never say no to a beautiful handbag.
Below are the top 3 most expensive handbags in the world for the year 2021:
1. Mouawad 1001 Nights Diamond Purse (worth N1,561, 800,00)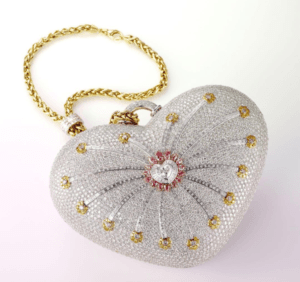 This heart-shaped purse has the highest numbers in the history of ladies handbags sold in a private sale. According to DailyMail, the bag which has over 4,500 sparkling diamonds all over it  is referred to as the most valuable bag ever. The Mouawad 1001 nights diamond purse was sold at $3.8 million.
This timeless fashion piece was produced by internationally acclaimed jeweler Robert Mouawad and according to him, the design on the purse represents fantasy, mystery and romance.
2. Hermes Birkin Blue Bag by Ginza Tanaka (worth N781,000,000)
This is the second most expensive bag in the world. it is valued at $1.9 million only. According to reports, this Hermes multipurpose masterpiece was made from platinum, with about 2000 diamonds on the outer shell. It is a versatile bag because its sling can be removed and used as a necklace or bracelet.  And the precious stone in front can also be removed and used as a brooch.
3. Lana Marks Cleopatra Bag (worth N165m)
This bag is very popular amongst celebrities on red carpets. Only one of the $400,000 beauty is said to be produced every year. And every year, the same bag is produced in different design and color from the previous,  to suit the taste of the top profiled person who will eventually buy it.
Until now, Li Bingbing, a Chinese singer, and actress owns the costliest American alligator leather Cleopatra clutch.
Not minding the prices or affordability, which of these expensive handbags would you love to own? Kindly drop your comments in the comment section.